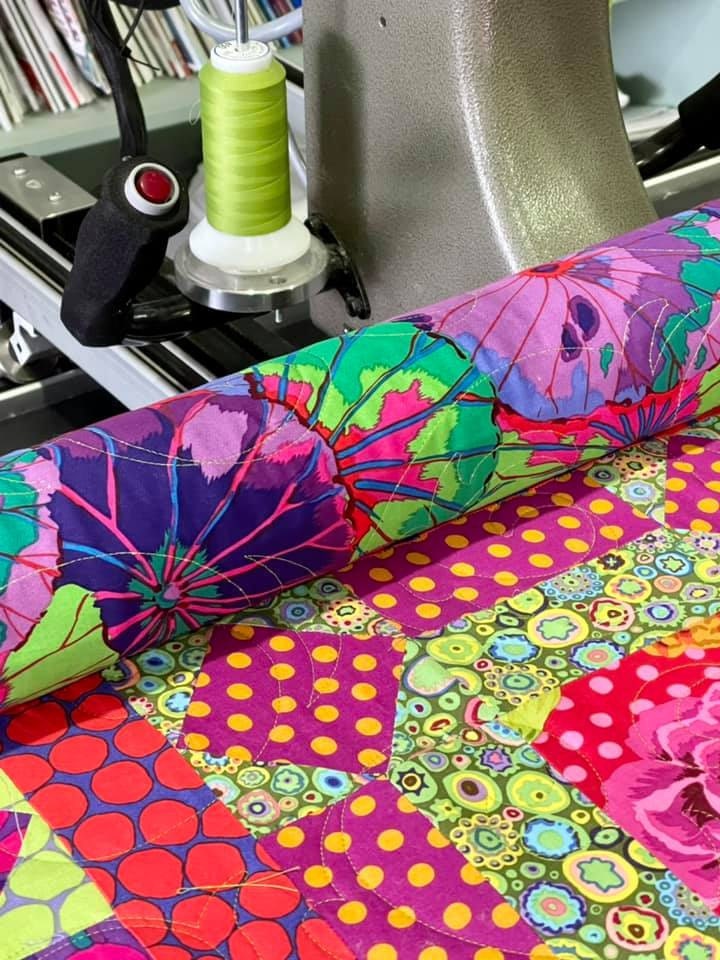 Today I am working on quilting up the Scarlet version of the Kaffe Fassett Gathering No Moss quilt for the Quilt Along starting in July. 
As a former professional long arm quilter I wanted to share some thoughts and ideas on choosing backing fabrics and thread colour for a quilt.  Oftentimes I would get a light coloured quilt sent to me with a very dark coloured backing which would often be difficult to then choose what colour thread to quilt with.  If you choose the top colour thread to be different than the bottom bobbin colour it can sometimes be very tricky.  The place where the two threads meet will show the bottom colours on the topside like a tiny poke where they intersect.  This isn't usually seen if the colours are similar but if they are very different they can show up and look sloppy of over the entirety of the quilt.  I would generally aim to always use the same top and bottom thread colour for ease and consistency.  
This factor has lead me to consider my backing choices to accommodate this issue.  I now often choose my backing based on whether or not the the thread colour I choose will go nicely and blend in with both the top and the backing fabric.  
For the quilt I am working on today I chose the new Kaffe Wideback Lotus Leaf that arrived in the shop last week.  It pairs nicely with the Scarlet colourway version of the Gathering No Moss quilt and as you can see the Olive Green colour blends nicely with both.  
I usually choose the lightest colourway of thread possible that will blend in with the top as I have found from experience that light thread over dark fabrics is more pleasing to the eye than dark threads over light fabric. 
I hope this tip is helpful for anyone trying to choose backing fabric for their next quilt!